Friday, August 07, 2020
'Give It To Me'
SUWON, SOUTH KOREA – The only thing better than a dream is living it… And though the
transition from the world of dreams to reality may be difficult, those meant to dream will
continue to dream, and those meant to live it … will.
Jamaal Marvel is no longer dreaming. This rising star who hails from Virginia has a creative mind
that finds its way into telling stories across multiple mediums – from novels to art to music. His
music in particular has been drawing some attention of late, and his newest release "Give It To
Me" is sure to put him on the map globally.
The up-tempo dance track is the perfect song for today's troubled world. With lyrics that inspire
listeners to find healthy outlets for their stress, "Give It To Me" is the kind of groove that's not
only fun to listen to but also motivational.
"People are going through so much on a daily basis," Jamaal said. "There's just wave after wave
of stress – from relationships or jobs or children or debt or whatever. We're all trying to
overcome and survive. This is a song that shows the importance of stress release in order to get
through and stay above water and control life. It gives people some examples of ways to do this
in a fun way that many people can relate to. Basically, it's about a person who is going through
turmoil but is persevering despite what they're experiencing, and at the end of the day, they
can go out and grab a drink and go dancing and have fun. So it's upbeat, it's fun, and it's
uplifting in a way that promotes that kind of stress release."
Drawing inspiration from every decade of music – specifically the Funk of the 80s and the
Heart-and-Vibe of the 90s – Jamaal continuously pushes his creativity to levels greater than
before. This rapper/singer/songwriter/producer blends the best of all that is loved in Hip Hop,
R&B, Funk and Pop into a sound that defines the word unique.
"I'm a singer first, but I also rap," he said. "When I make a song, a lot of times I think of whom
I'd like to collaborate with and I try to make that kind of sound. So I think about J.Cole and
Mariah Carey and Doja Cat making a track together – what would that sound like? I think it
would sound great, so I try to make something like that."
While serving in the Air Force over the past decade, Jamaal has also been slowly developing his
career as a musician. In 2012 while stationed at Luke Air Force Base, he began touring with a
small group and performing at local venues. He released his first album, "Love & Imperfections"
in 2013, and in 2015, he co-founded the fusion group Half Black, becoming its lead vocalist. The
group's album, "Evolution" debuted in 2016.
In 2017 and 2018, Jamaal began collaborating with
EDM artist Cadmium, creating singles that today have reached more than two million views on
YouTube. This year, he has already released two singles – "Sucker" and "Future Love" – both of
which have gotten some heavy play on streaming platforms.
This year Jamaal has been busy creating even more music as a solo artist while also putting
together a larger body of work. With two albums down and a second solo album set to be
released in fall 2020, Jamaal Marvel is living his dream. "We are what we do, not what we say we want to do," he said.
To listen to Jamaal Marvel's music or to follow him on social media, please visit:
https://www.facebook.com/jamaal.marvel

https://www.facebook.com/jamaal.marvel

https://www.facebook.com/jamaal.marvel

https://soundcloud.com/jamaalmarvel

https://soundcloud.com/jamaalmarvel

Thursday, August 06, 2020
We aren't sure who the winners are yet but rest assured that I'll have them on the Brad Cooney Podcast show on August 17th at 8p CT. I'll post the Podcast right here at the home base. STAY TUNED!
Tuesday, July 28, 2020
Sean Walk inspires movement with new single 'Nobody'
LISTEN TO THE PODCAST BELOW
MAYWOOD, IL
– Sean Walk is creating a movement. It's hard to define, but anyone who listens to his music will understand immediately what it is he's trying to inspire. It's a movement that's all about making music for everywhere – breaking down barriers and destroying walls that spring up between people for so many petty reasons. During a time in which there are wide cultural and societal divides, Sean Walk's movement is not only attractive, it's necessary.
"Whether it's vibe music or dance or music for the soul, I'm trying to create something that helps people relate in positive ways to what's going on around us," Sean said. "Each day, I experiment with different genres such as Rock, Rap, Blues, R&B, or whatever my soul feels like doing. My music is personal style, growth, and the ups and downs of everyday life. I hope that my movement will be something that everyone who listens to my music can relate to. Music should help people cope with life, be happy, be motivated, be inspired, and hype you up."
Sean's newest single is a perfect example of that unique sound and style. The song is called "Nobody," and it explores the inner strength it takes to look others in the eye and say, "No, I won't listen to your negativity."
"I never try to fit in," Sean said. "I've always been different and I've always gone my own way, and that's what this song is about. It's Rap mixed with Rock and the lyrics talk about not needing anything and not asking for help or depending on anybody. I'm going all by myself and making it happen. It's a real live song – a turn up song – with pure emotion."
Sean said the single is one that serves as the perfect marker at this current time of his life, and a great example of the kind of journey he's taken both in life and in music. He first started down the path of music as a career when he was 9 years old. His mother purchased journals for him and his brother, and he recalls listening to Petey Pablo and writing down his lyrics into the journal. He started rapping when he was 13 and in the years since, he's worked on developing his own unique sound and style.
"My sound is all about realism and the hurt and pain and actual feelings we go through on a daily basis," he said. "I don't consider myself a rapper – I'm a ghetto rocker. I turn my passion into music, and the way my music comes out is just pure. I just let my mind do the work and every time, I come out with a hit. It's raw emotion. Too many people don't want to let their feelings out but with my music, they can connect and it can help them get their emotions out. That's how I express myself and that's what this movement is all about. If you don't want to talk to people, you can talk through my music."
In addition to "Nobody," Sean is also preparing to release a mix-tape called "Safe Love, Real Problems" which he said should be available across all streaming platforms by September. He's also working on a 12-song album called "Focus Through Frustration" which he plans to drop either later this year or in early 2021.
To listen to Sean Walk's music or to follow him on social media please visit:
https://instagram.com/walk_the_movement?igshid=18wfdpgh1oub9
https://www.youtube.com/channel/UCDUlSNzzQKoE4WfwbeAWQVQ
https://twitter.com/SeanWalkTheWalk
https://www.facebook.com/seanwalkthewalk
https://www.facebook.com/seanwalk.dahwalk
Friday, July 24, 2020
Global artist Ricky Persaud Jr. releases timely
new album 'M.Y.O.B.'
LISTEN TO THE PODCAST BELOW!
IRVINGTON, NJ – When listening to multitalented artist Ricky Persaud Jr., fans are treated to an
unbelievable range of sound and passion that is both simple and sophisticated. Just when you
think you've got him figured out, another track changes your perception. Weaving from Rock to
Reggae to Pop to Funk and everything in between, this East Coast artist is one of the hottest
acts to fly under the radar over the past decade. But with the release of his forthcoming sixth
album "M.Y.O.B.," he's set to launch onto the global stage in major ways.
Calling the new album his most personal work to date, Ricky said "M.Y.O.B." is a coming-of-age
tale that will inspire listeners to look deep within and find the strength to stand up to anyone
who might be discouraging. It features alternative Pop elements with sounds of Rock, Latin and
other world sounds sprinkled in.
"It's a sound I've worked on my whole life and really melded into my own signature style," he
said. "I grew up in a very musical family – my father was an engineer for Reggae acts back in the
day and my mother played keyboards when she was younger. They'd play all kinds of different
records in the house growing up including many from the Caribbean, where they're from, and
all of that influence opened my mind to what music is.
I don't hear a lot of people today melding genres the way I do so seamlessly. I've been exposed to so many aspects of culture over the years that it has all found its way into my music."Ricky said "M.Y.O.B." is an uplifting and positive album despite that the acronym stands for "Mind Your Own Business." The debut single of the same name talks about knowing oneself and standing up for your rights and not letting others bring you down just because you're doing good in life.
"There's so much darkness in this world which is why I'm always talking about something
positive," Ricky said. "There are songs on this album about racial equality and standing up for
your rights and the fight against injustices. One song, 'Sorry Not Sorry' is about overcoming
being bullied and is very important for today in the face of this systemic racism going on right
now. More than anything, I just want people to hear my messages and spread the love around
the world."
Another single is equally encouraging along those same lines. Titled "We're Gonna Get Through
This," the song talks about the current global situation with the COVID-19 pandemic and
America's response to the George Floyd situation and overall racial injustices prevalent
throughout the country. It's yet another track on the album that lets listeners in on his
transparent and deeply honest response to the world around him.
"I know who I am and I am secure in what I want to accomplish," he said. "I don't want
anyone's opinion of me to get in the way of my musical journey. That's what this album is about
– championing one's own uniqueness and power and sharing an infectious enthusiasm."
To listen to Ricky Persaud's music or to follow him on social media, please visit:
http://www.rickypersaudjr1.com/
https://twitter.com/rickypersaudjr?lang=en
https://www.instagram.com/rickypersaudjr/
https://www.facebook.com/rickypersaudjr/?ref=bookmarks
https://soundcloud.com/user-943024770
https://www.youtube.com/channel/UCf-V99HduRwK4LZmtrmn6Vw?view_as=subscriber
"M.Y.O.B."
https://www.youtube.com/watch?v=s3HGEGsg9Mw&list=OLAK5uy_mGRJsbCXhyH1ScW-T35hB_qHkwRr4vOoQ2
Wednesday, July 22, 2020
East Coast artist J-Carter drops fourth album 'Hip-Hop Till I Die'
LISTEN TO THE PODCAST BELOW!
TRENTON, NJ
– Back in the lab and ready to drop more heat, East Coast artist J-Carter is back with his fourth album "Hip-Hop Till I Die." And it's not an album for the average Hip Hop fan. With 48 tracks, it's a project that J-Carter says is the kind of musical journey created specifically for people who have Hip Hop as part of their DNA.
"I've got a lot to say and so little time to say it, that's why the album has so many tracks on it," he said. "You might hear 48 tracks and wonder what I have to say, and really I cover everything. I'm trying to keep the classic Hip Hop aura going with the reality and concept of this album, all while implementing it into more of a contemporary sound. I'm also trying to show my diversity and flow, so across all of the songs, you'll hear Hip Hop but also R&B, Pop, Rock & Roll, Blues, and so much more."
J-Carter said "Hip-Hop Till I Die" is an album that balances traditional lyricism with a contemporary outer shell. It aims to keep the realness and reality for which Hip Hop is known, while also taking a progressive approach to the genre in ways that he said will leave a mark on the music world.
"It's something that hasn't been heard before in this genre," he said. "I think I have a unique
voice. Nowadays, when you hear rappers, most of them are trying to sound the same and so
many of them use auto-tune. I can't stand auto-tune. It takes the personality out of your voice
and you just end up sounding like everyone else. Sure, you might get one hit from that, but
that's it because you have no personality to set you apart. I'm different in regards to every song
you hear has personality to it. No one song sounds like a previous song I made. And you can tell
by the personality and flow that it's me."
J-Carter said he first got his start in music when he was 13 years old and got bored one day in
class, so he "just started writing." He loved it so much that he took a deep dive into English and
the crafting of the language. He would spend his spare time reading about words in the
dictionary and playing with lyrics. He also studied storytelling, and when all of those things
came together, he found that he had a natural gift for songwriting.
"A song is a story, and I love fitting all the intricate parts of a story into something that sounds
interesting," he said. "I write for the people, I don't write for myself. My music uplifts the minds
of all people who listen to it. As long as I can keep that at the forefront of what I do, it'll never
fail. I want to help people elevate their minds. That's what music is supposed to do. If you're
not doing that with your music then what's the point?"
To listen to J-Carter's music or to follow him on social media, please visit:
https://soundcloud.com/j-carterrocks/get-high-for-u
https://soundcloud.com/j-carterrocks/got-me-where-you-want
https://soundcloud.com/j-carterrocks/coming-in-second
https://www.youtube.com/watch?v=SEYkUuwqQgY
https://www.facebook.com/lyricaltimebomb
https://www.instagram.com/jcarterrocks
https://www.twitter.com/Jjcarter1976
https://www.jcarter.rocks
Monday, July 20, 2020
LISTEN TO THE PODCAST BELOW!
NEWARK, NJ – On America's Independence Day, East Coast artist Juan "Jerzey B" Battle Jr. released his new single "It's Litty." Like the explosions that accompanied the national holiday, Jerzey B's new song is a blast back onto the music scene after an unexpected hiatus of the past three years.
This young up-and-coming artist from East Pennsylvania has a storied past when it comes to his pursuit of a career in the music industry. Signed three years ago to an independent label, it looked like things were about to take off for this talented young rapper. But a series of complications with the law stemming from past mistakes made it impossible for him to travel internationally, and the independent label – which had signed him with the intent of having him tour overseas and develop a global following – ended up dropping him.
Jerzey B stepped awayfrom music after that, frustrated at the situation and discouraged that his hopes and dreams wouldn't ever come to fruition. But in the face of so much other global disappointments in
2020, Jerzey B decided he wanted to take a second chance at pursuing his dream.
"Everything I ever needed was to be heard, so I decided to hop back and do it again… but bigger
this time," he said. "This song is my intro to me coming back. It's definitely upbeat and it
features a female artist named Cyani Love. With her sound and mine, I just know it's gonna be
great."
Jerzey B said his music is the kind that will get fans turnt-up. Though his lyrics can go deep and
into great detail, the art of pairing those lyrics with catchy music is what really inspires him.
He's a fan of beats that make you turn up, and that's what he tries to bring with his own music.
"I'm gonna mix that and make sure you can turn it up, but I'll have some real shit in there, too,"
he said. "It's gonna give you that 90s vibe when it comes to the words, but the beats is gonna
get you here in 2020."
For a large part of his life, music was the only outlet for his frustrations. When he was 9 years
old, he witnessed his father stabbing his mother multiple times. She lived through the attack
and when she recovered, she took Jerzey and his two other siblings to Blackwood, New Jersey
to start a new life. Trouble followed him, however, and music became his go-to when things got
rough. He was incarcerated at age 16, and every night in jail, he would write a new song to help
deal with his emotions and anger. He's been in and out of jail 17 times over the years but over
the past year, has dedicated himself to turning over a new leaf and putting his energy into the
music.
"I feel like when I speak, I want you to actually feel like if he did this shit, I can do it, too," he
said. "I want to inspire people on a different level. The biggest thing to get out of my music is to
build the structure for a lot of other artists. I want to change the New Jersey scene and make it
the next Atlanta. There are so many good artists here, but we don't have the structure or the
resources to get the world listening. That's what I'm gonna bring because we got the potential
and I got the passion. This is me – 100 percent."
To listen to Jerzey B's music or to follow him on social media, please visit:
http://www.jerzeybmusikk.com/
https://www.instagram.com/jerzeybmusikk
https://www.twitter.com/jerzeybmusikk
Monday, July 13, 2020
Magnetic music from Southern Rapper Yung Noble motivates the masses
HAZLEHURST, GA
–
A magnetic new sound from up-and-coming Rapper Yung Noble is setting the South on fire with motivational tracks and tales of inspiration.
LISTEN TO THE PODCAST BELOW!
Operating out of Hazlehurst, Georgia – a small town just over the border from Florida – this young Hip Hop artist is already leaving his mark on the music industry with his brash and bold storylines and his one-of-a-kind Southern flow. His whole life is an interesting tale and he weaves those words through each and every song he releases.
His most recent offering to the world is a huge vibe called "Big Dawg Status." It's the kind of song perfect for the summer, with a beat that will make listeners bob their heads, feel good and want to move.
"If you have any kind of musical inclination, it'll make you want to move," Yung Noble said. "It's a song that talks about appearances and places and things that I do every day – things I've been through in the streets or dealt with females or just life in general. All of that is compacted and compressed and put together into this great-sounding vibe."
Noble said the handful of people who have already heard it have given him great feedback, and
he's looking forward to making a big splash on the national stage when it goes wide across all
streaming platforms in early June. Later this year, Noble said he plans to follow this single with
a full mix-tape called "LSD" which stands for Love, Strength and Determination. Not only will it
be a project that further explores his unique sound and style, but it will also take listeners into a
deeper dive of his story while also inspiring people from all walks of life to embrace love,
strength and determination in their own lives.
"I want my music to be known for the quality of it, for one," Noble said, "the quality of my
message and the quality of the sound. And I want people to know that I always try to help
people and I always kept going and did not stop. I want them to see the relentlessness and the
drive. And more than anything, I want them to see the purity of the whole situation I'm bringing
– to listen to my songs and say, 'Damn! This dude's been through a lot! He's good at what he
does and he likes doing what he does. Maybe I can do that, too.' So it's deeper than just the
music."
To listen to Yung Noble's music or to follow him on social media, please visit:
https://www.instagram.com/globaln9ble/
Snapchat: @Globaln9ble
Wednesday, July 01, 2020
Jon Swaii expands on legacy of inspirational messages with powerful new music
LISTEN TO THE PODCAST BELOW!!!
BRONX, NY
– When Jon Swaii was a teenager in school, he remembers learning about the Vietnam war. One image from that period of time hit him deeply – the image of a Buddhist monk setting himself on fire in protest of the war. Jon saw that image and realized that the monk believed so much in his message that he knew his act of self-sacrifice would inspire others to take a stand. That's the kind of impact he, too, wants to leave on the world.
The young artist from Bronx, New York is already starting to inspire people with his unique sound and style. As an artist and producer, Jon Swaii is using his talents to create meaningful messages that motivate the masses. He brings a diverse background of influences to the table too, which makes him the perfect artist to connect with a wide range of audiences.
Due to instability at home at an early age, Swaii relocated every couple of years – at one point living in Italy for two years. He also lived in Florida, Albany, Long Island, Virginia and Pennsylvania. He often felt like the "new kid" as a child and found himself the easy target for bullying. Instead of lashing out, he turned to poetry to release his emotions – turning his fearand rage into words that others started to connect with. He became obsessed with perfecting his craft, turning poetry into Rap and studying some of his favorite artists such as Kid Cudi, Jay-Z, Nas, Eminem, Andre 3000 and J. Cole. As a result, Swaii has created a sound that is real Hip Hop – lyrical, genuine and versatile.
"It's not made for any one specific type of person," he said of his music. "My main objective is
to influence the growing minority to grab power. There's a genuine real-ness about my music. I
want to be one of those artists that people listen to and whose music is timeless. When you
listen to my music, I hope you get the same emotions 10 years from now as you do the first
time you listened to it."
Swaii has quite the pedigree when it comes to music and inspirational messages. His great
grandfather, Leonard P. Howell, was the founder of Rastafarianism and preached a message of
black power and anti-colonialism in Jamaica, Africa and the U.S. Swaii said he wants to expand
on that legacy and use his music to connect in meaningful ways across the world.
He released the single "Contagious" 8 months ago and a re-release date is set for June 20th.
The song is a play on the way we all currently use and abuse technology, from the simple use of
our cell phones, to the over sharing on social media. "Contagious" brings awareness to the
flaws of being dependent on technology by today's youth. What is meant to keep us all
connected quickly turns into a voice in our heads demanding "POST IT".
He is also working on a bigger EP called "Paradise" which he hopes to release later this year.
To listen to Jon Swaii's music or to follow him on social media, please visit:
https://twitter.com/jonswaii_
https://www.instagram.com/jonswaii/
https://www.facebook.com/jon.swaii/
"Tell Me Why"
https://www.youtube.com/watch?v=PTv9rTDEW5c
"Love Me Through"
https://www.youtube.com/watch?v=_ntv4LHZFcI
"Contagious"
https://music.apple.com/us/album/contagious-single/1478790033
https://tidal.com/browse/album/117069689
https://open.spotify.com/album/1j5G8d2P0vO3IjJexA47Qs?highlight=spotify:track:4aXYBBy0Te 3PB7LrQrYjZm
I had a chance to sit down and talk with the creator and producer of the # 1 documentary film in the nation (iTunes charts) Krista Alexander. We took a deep dive into these "lights in the sky" and talked about what they might be and why they are here.
What are these lights that people all across the world are seeing and videoing? That's what Krista wanted to know, so she started her journey and ended up making a documentary film about them. Krista has a very impressive background. Among many things, she's also a combat veteran who has served her country. That alone warrants much respect.
Have a listen BELOW to what all she had to say about the film everyone is talking about, "Lights In The Sky."
You can purchase the film
HERE
Visit the official film website
HERE
c
Wednesday, June 24, 2020
LISTEN TO THE PODCAST BELOW!
Enuff Z'nuff are the living, breathing example of what a rock 'n roll group should be. Now centered around bass player and vocalist Chip Z'nuff, Enuff Z'nuff are still delivering the band's patented power pop melded with hard rock stylings. Their new album, "Brainwashed Generation" is the follow-up to 2018's well received "Diamond Boy".
Featuring founding member Chip Z'nuff along with Alex Kane (guitars), Tory Stoffregen (guitars), and Daniel Benjamin Hill (drums) - Enuff Z'nuff's new studio release, "Brainwashed Generation" showcases a diverse collection of songs that demonstrate the progression of musical styles in the Enuff Z'nuff catalog, all while retaining the undercurrent that has kept them a loyal fanbase since the '80s.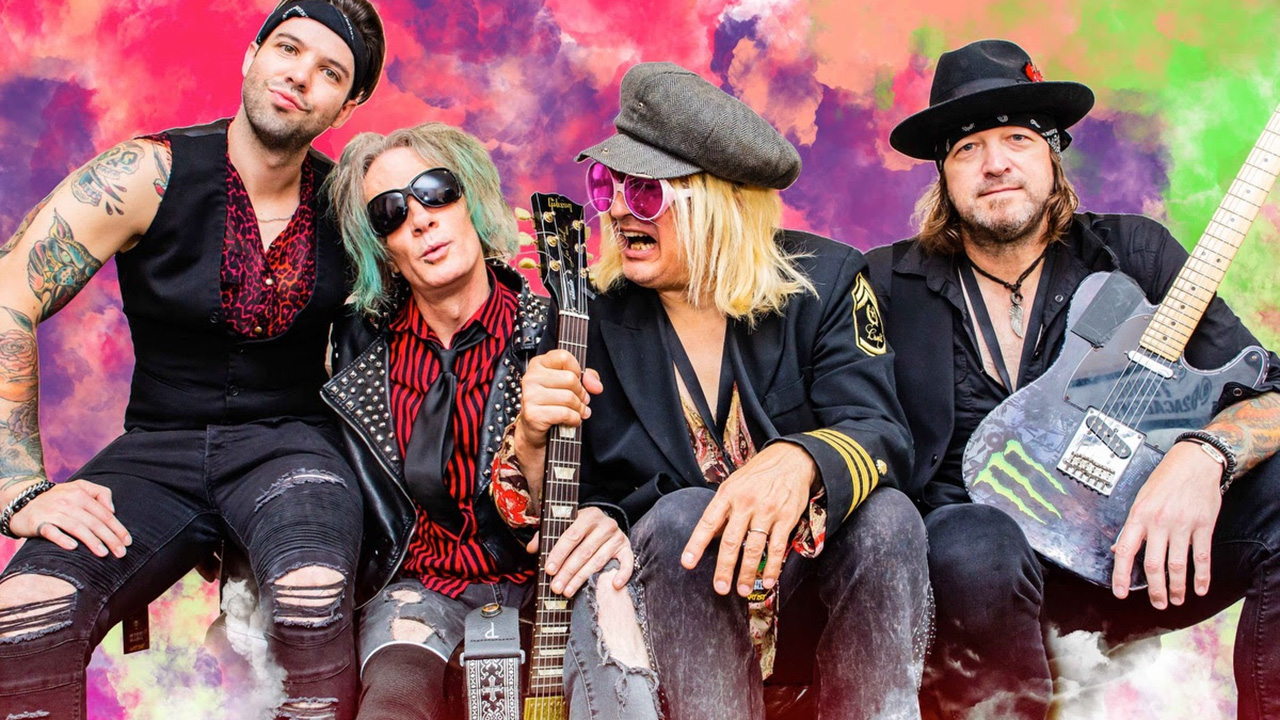 Originally formed in 1984 in Chicago, IL, the band received their big break in 1989 when they signed to Atco/Atlantic Records. Founding members, Chip Z'Nuff and Donnie Vie were joined by guitarist Derek Frigo and drummer Vikki Foxx and they commenced work on their major label debut. The self-titled album was a monster hit and spawned two evergreen singles, "New Thing" and "Fly High Michelle". Both received constant airplay on radio and heavy rotation on MTV, spending over 60 weeks in the Top 10. 1991 saw the band release their sophomore album, "Strength". The album had more of a hard rock overtone and sustained the success achieved on the first album. The band made high profile television and radio appearances on the likes of David Letterman and Howard Stern and were featured in Rolling Stone's Hot Issue as 'The Next Big Thing'. The band soldiered on during the new musical climates of the '90s and went on to release another over a dozen more studio records.
Tracklist:
The Gospel
Fatal Distraction
I Got My Money Where My Mouth Is
Help I'm In Hell
It's All In Vain
Strangers In My Head
Drugland Weekend
Broken Love
Go…
Winding Road
Line-up:
Chip Z'nuff - Bass
Tory Stoffregen - Guitars
Alex Kane - Guitars
Dan Hill - Drums
Special guests:
Mike Portnoy - Ringo / Beatles replica kit by TAMA - Track 5
DAXX "Cheap Trick" Nielsen - Drums tracks 2, 4, 7, 9
Steve Ramone - Guitar tracks 2, 8
Tony Fennell - Guitar track 3
Joel Norman - Piano track 1
Brian Ray - Guitar track 8
Ace Frehley - Inaudible lead guitar track 7
GO TO THE OFFICIAL ENUFF Z NUFF WEBSITE TO PURCHASE THE RECORD AND PURCHASE BAND MERCHANDISE -
HERE
Tuesday, June 23, 2020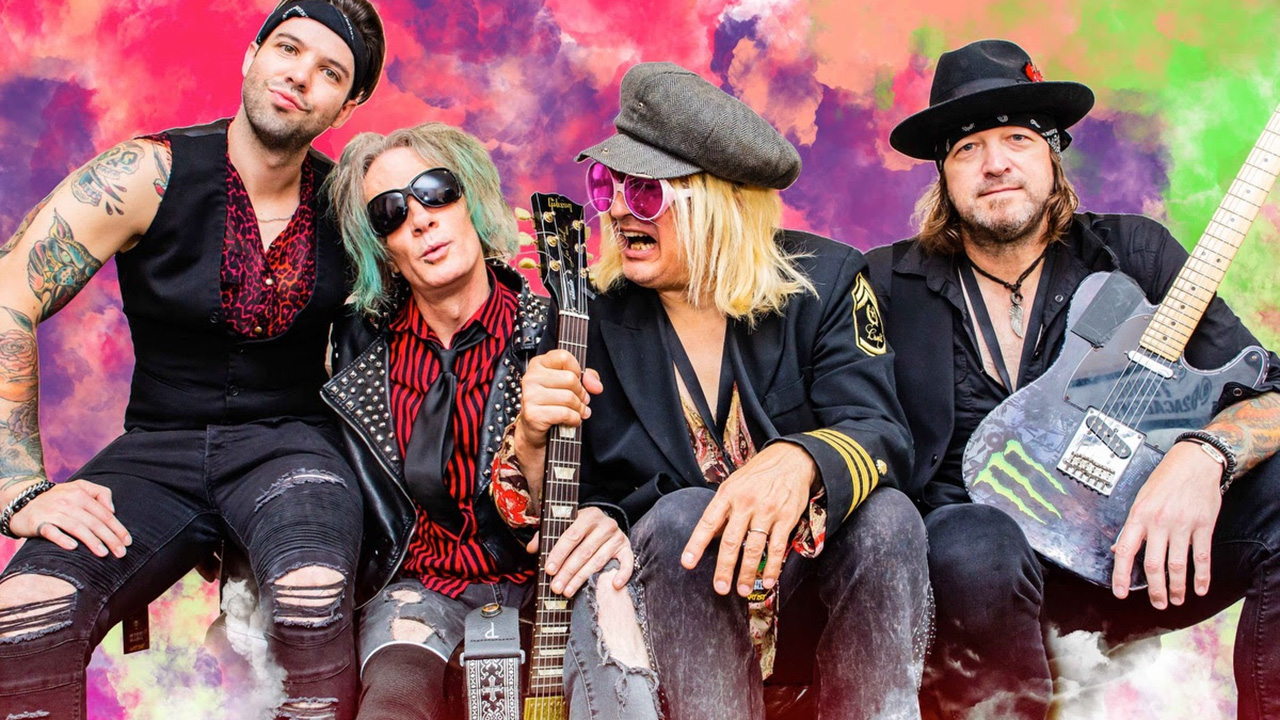 They've been doing their thing since the early 1990's. Enuff Z Nuff had 3 smash hits in the 1990's and continue to make great music to this day. Brad Cooney welcomes Chip Z Nuff tomorrow June 24th to talk about the band's new record "Brainwashed Generation" The Podcast will be streamed here Wednesday afternoon around 4p CT.
 Jamaal Marvel releases timely new dance track LISTEN TO THE PODCAST BELOW 'Give It To Me' SUWON, SOUTH KOREA – The only thing better tha...